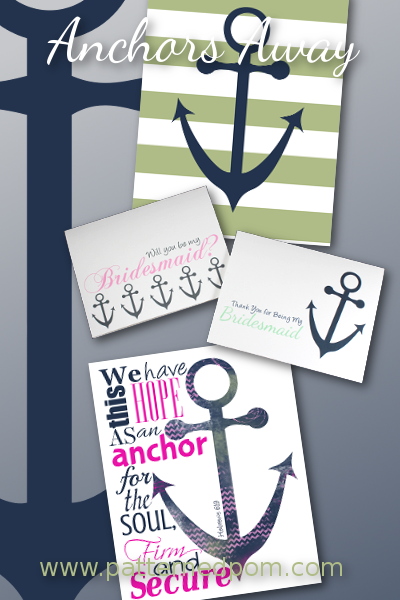 Have you have been seeing anchors here, there, and everywhere these days? I wouldn't say that I follow every new fad that comes and goes, but I find this trend very fun and fresh, so I have added anchors and nautical items to my Etsy Shop!
In the Printable Art Section you will find a variety of anchors, sailboats, and oars. There are bright bold patterns, simple modern designs, and typography - something for everyone! As always, I can customize colors to match your home decor!
And as things find their way into home decor, they also find their way into paper goods and weddings too! Check out my new greeting cards designs including:
"Will you be my Bridesmaid?" cards with a row of anchors across the bottom of the card.

"Thank you for Being my Bridesmaid" cards with a big anchor on the front - this can be customized to any colors you would like.

And don't forget my all occasion anchor card (I call it Anchor Love!)
Find them all in my shop now and check back often as I add more!