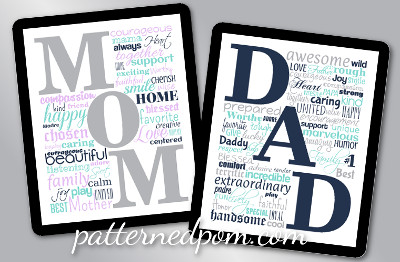 Looking for the perfect gift for Mother's Day or Father's Day? Look no further! I have added unique MOM and DAD typography signs to my Etsy shop just in time for both!
Typography is a type of word art where you carefully arrange the words in different fonts. I enjoy working with a variety of different fonts to create the perfect combination of skinny and fat, plain and fancy, and, of course, serif and sans serif! And finding the right words to fit with the theme and into the right area makes for an exciting challenge. I will admit that a thesaurus helps me out on occasion!
Both Mom and Dad Signs are available in a variety of colors already at Patterned Pomegranate or the signs can be modified with colors of your choice. Want even more personalization? Replace up to 10 words with names, favorite places, or pet names! You definitely will find one that your mother or father will enjoy! And don't forget, you can print them as many times as you want, so you have your mother-in-law and father-in-law presents too (I promise I won't tell if you don't!).