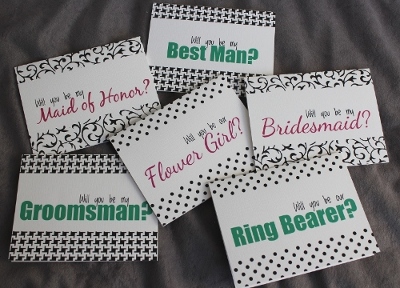 UPDATE 2018: I now have "Will you be my Bridesmaid" cards and other bridal party proposal cards here on my website.
New in my Etsy Shop are a line of Will You Be My...Cards to ask your Bridal Party to be in your wedding!
Cards are available for:
Maid/Matron of Honor
Man of Honor
Bridesmaid
Junior Bridesmaid
Flower Girl
Best Man
Groomsman
Ring Bearer
Cord Bearer
All are made to order, so they can be customized with color and pattern. The nice thing about these is that they can be shipped faster than my custom dress and tuxedo cards (to get the wedding planning going fast!). The cards ship within 1 to 3 days! Choose from 24 text colors and 12 patterns to make the card special.
As always, the interior is blank for your personal note to each person on why you would like them to stand by your side on the wedding day!
Find out more details on how to order in my Etsy Shop or send me a message!