Are you looking for a way to grow your business and drive new traffic to your Etsy shop or other small business website? You should try Pinterest! I have been using Pinterest for years, but just this last year started using it specifically to drive traffic to my Etsy shop and my own website (this one!). It has been amazing! Really if you are reading this article, it is probably because of Pinterest.
What is so great about Pinterest is that unlike social media where posts can be seen for maybe a day, your pins can be found on Pinterest for years. I have simple "not pinterest ready (IE not vertical)" pins from years ago that still bring people to my Etsy shop without repinning or even paying attention to them.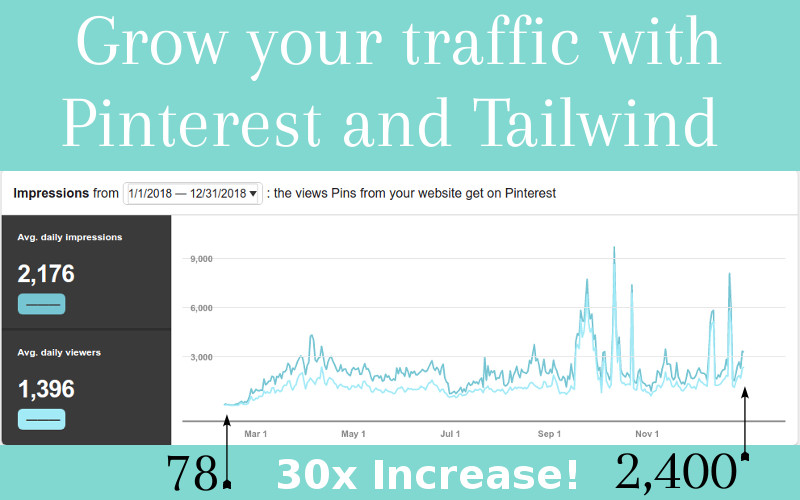 As you can see from the chart though, the game changer for me was to start scheduling my pins through Tailwind in August. I was using another pin scheduler previous to that (from approximately April to July), and I liked its set it and forget it methods, but Tailwind is way more effective in improving views.
If you look at the chart from my website you can see that in February I was getting an average of 78 views per day, by the end of the year I was getting an average of 2415 views per day. The graph seems somewhat unimpressive because of the random peaks, but the overall average increase in my website traffic was 30X over one year. Maybe that isn't stellar in the grand scheme of websites, but it is great for mine (You have to start somewhere)! As of writing this in January 2019, my average daily views has increased to my website to 7600 (I added in Smartloop and more Tailwind Tribes in January).
So if you are looking at Pinterest to expand your small business marketing plan here are some tips:
Sign up for a Pinterest Business Account (you can switch your personal account) to get all the tracking and business extras. Link your website to your Pinterest account. Create great niche specific boards to include your pins and other pins. Create SEO rich board descriptions too! I would say matching or branded board covers are not as important - make them only if you have time. Don't stress over it. Your Pinterest pinning is now all about your ideal customer. If you want to pin things for you, make those boards secret.

Make sure you have a vertical photo (or two) to pin for each product or blog post (600 pixels X 900 pixels), use great SEO rich pin descriptions written in sentences (no keyword stuffing), and hashtags (Pinterest recommends no more than 20). There is a limit to the number of characters you can use in your pin description, so I recommend a great SEO description and just 3-4 hashtags.
Need help making a pin image from your Etsy product listing photos? I would love to use my expertise in graphic design, creating pins, and photo editing to help you!
Sign up for a pin scheduler. Pinterest wants you to be active pretty much all day long. I have seen where people say they can do it manually, but I don't see it is possible without being tied to Pinterest. Plus, don't you have better things to do? I highly recommend Tailwind (Affiliate Link) and you can get your first month free with the link to try it out! Tailwind really does select the times that get you the most engagement. There are people that recommend 40-80 pins per day, but that is a huge time commitment when you are getting started.
I recommend pinning 10 per day until you get the hang of it (20% your pins and 80% other niche relevant topics of other peoples pins). Then as you understand the ins and outs of Tailwind, you can increase your daily pinning amount.
Find group boards on Pinterest to post your products to new audiences. This is time consuming, but does help you reach different people. Once you get on a few, you may consider trying out the Tailwind Smartloop. I find it easier to know that my pins are being pinned around but not overwhelming any particular group board. Be a kind board member and repin from the boards too. Some places to find group boards:

Pin Groupie
Facebook Groups dedicated to Pinterest
Find people in your niche and see what group boards they are a part of.
Don't forget to make a couple group boards of your own and invite people to join them!

Join Tailwind Tribes - Tribes are kind of like group boards only better! Once you find a great tribe you reach can soar! I have had one pin reach over 150K people from pinning it once to one active tribe. Talk about amazing reach!

I always love new members of my tribes, you can join here:
I love being able to showcase other handmade artist and small business entrepreneurs. And I love finding great new organizing ideas to share on my Pinterest Boards!
You can also follow me on Pinterest too! You will find pins on handmade products, modern home decor, birthday party/holiday ideas, organizing, decluttering, storage, and time management ideas.
The link provided is an affilitate link for Tailwind. I only link to products I use and love. If you join through the link, I will receive a small commission, however it does not increase your price for the service.