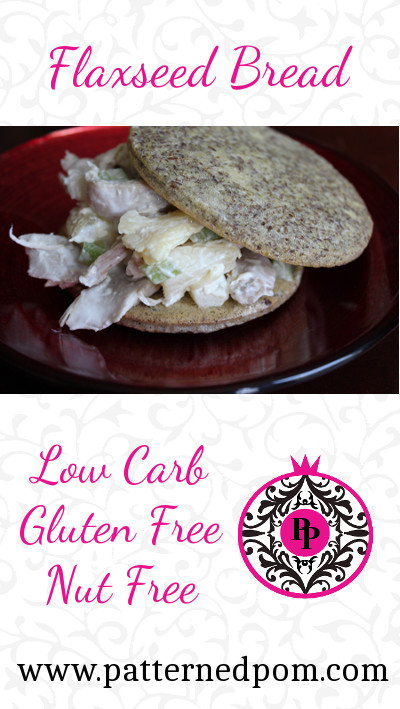 Since going low carb, there aren't too many things I miss, but I do miss the convenience of a sandwich. Especially PBJs! I am sure if you have ever been on Pinterest, you have seen several versions of low carb bread - sometimes containing lots of cheese, sometimes with strange ingredients that you don't have on hand. So why add another? This is just too good to not share, that's why! If you are familiar with sandwich thins, the way I make them is really a lot like those - minus the carbs.
This recipe is modified from the Flaxseed Wrap from the "Wheat Belly Cookbook" by William Davis, MD. We have modified this base recipe into several different gluten free and low carb needs from french toast to teeny tiny cupcakes (I will have those recipes for you soon).
The only "strange" ingredient you need for this recipe is ground flaxseed, which if you are gluten free or low carb, you probably already have it in your pantry. I do recommend the three cavity silicone disk cake pan made by Freshware as it is the PERFECT size for a sandwich (4 inch diameter) and the silicone makes it pop out so easy and clean up is a snap. I have three of the disk cake pans which allows me to make nine pieces of bread at once, so the whole recipe start to finish only takes about 30 minutes. You can do it with only one, but really I wanted this to be a fast process and with little kids, sometimes I can get distracted during the cook time.
I recommend using a flat cookie sheet to slide the pans in and out of the oven - they are too flexible to pick up without moving your batter all around. Or set them on a rimmed cookie sheet to bake - watch your timing though since the bottom may get more done than baking directly on the rack.
You can use any other silicone pan with equal success, just adjust your cooking times according to size and thickness. If you want to use metal or glass, I recommend lining with parchment paper before baking. Baking times will be increase or decrease based on the size of your pan. I like to keep them very thin so they don't get a spongy texture (which can happen if they are too thick - it still tastes fine, it is the texture that bothers me). Don't be afraid to spread the batter out to the edges, it will rise as it bakes.
I know you can't wait anymore so here it is:
Flaxseed Bread Sandwich Thins
(Makes 18 rounds, or 9 sandwiches)
Ingredients
1 Cup + 2 Tablespoons Ground Flaxseed
1/2 Tablespoon Baking Powder
1/8 teaspoon Salt
6 Eggs
1/4 Cup Water
1/4 Cup Olive Oil
Optional: 1/2 Tablespoon Onion Powder
Optional: 1 tsp Paprika
Directions
Preheat oven to 350 degrees. Beat eggs and allow to sit while mixing other ingredients (see notes).
In a medium bowl, add flaxseed, baking powder, salt, and optional spices. Whisk the ingredients together. Add olive oil and water to the eggs. Mix wet into dry until well combined.
Add 2 Tablespoons of batter into each cavity of the disk cake pan. Spread the batter around until it reaches the edges - it will look thin, but as long as it covers you are good. Bake for 10 minutes or until the edges are slightly browned and the middle is completely set when touched.
As soon as you take them out of the oven, they will shrink a little making it easy to remove and place on a wire rack to cool. Cool completely before storing in refridgerator or freezer.
Notes
I beat the eggs with an immersion blender and it tends to make them a little frothy. I allow them to sit while I mix everything else up. I find that beating them gets the eggs really mixed up so you don't have noticable egg pieces in your bread. When you bake the first batch you will have some of the frothy eggs in it - doesn't effect the bread other than making it lighter in color. You can totally beat them by hand if you prefer.
You can also use melted coconut oil in place of the olive oil, but I find that makes the bread really greasy for picking up and eating like a sandwich.
Now we all can enjoy the look and feel of regular sandwiches again...Like the chicken salad shown in the photo - or even hamburgers on a "bun"! YEAH!