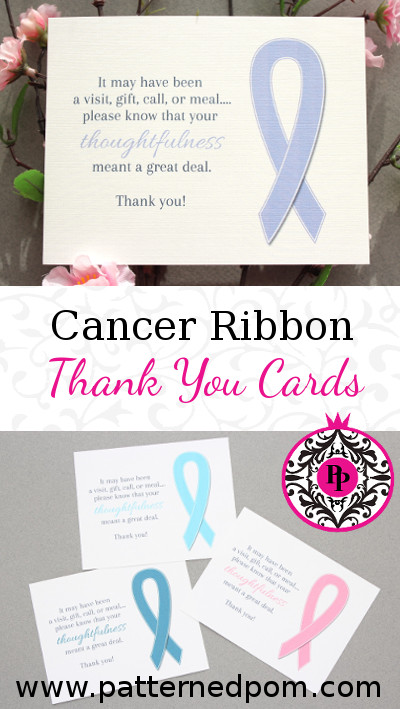 New to Patterned Pomegranate are these easy to use Cancer Ribbon Thank You Cards.
They were inspired by a conversation with a friend whose mom is a cancer survivor! She told me how the chemotherapy really drained her, but she felt like she wanted to thank those around her for helping her during her time of need.
The simple rhyme on the front of the flat card covers a variety of things that people may have done for the person so all they have to write is to and from names.
Each card is personalized to the type of cancer the recipient has:
Pink for Breast Cancer
Teal for Cervical Cancer and Ovarian Cancer
Light Blue for Prostate Cancer
Emerald for Liver Cancer
Dark Blue for Colon Cancer
Peach for Uterine Cancer
Black for Melenoma
Gold for Childhood Cancer
Yellow for Bladder Cancer, Bone Cancer, and Sarcoma
Periwinkle for Esophogeal Cancer and Stomach Cancer
Orange for Kidney Cancer and Leukemia
Burgundy for Head/Neck Cancer and Multiple Myeloma
Orchid for Testicular Cancer
Gray for Brain Cancer
Purple for Leiomyoscarcoma and Pancreatic Cancer
White for Lung Cancer
Lime for Lymphoma
Lavender for All Cancers
The word thoughtfulness in the text also matches the ribbon color.
I love that these simple thank you note cards are making someone's life a little easier during a difficult time. And they would make a great addition to a cancer care package. Find the cancer ribbon thank you cards here.