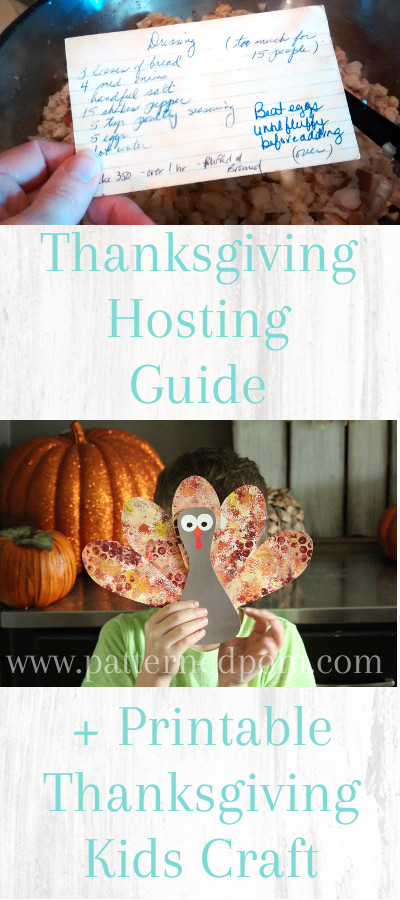 Do you gather with your extended family for the Thanksgiving holiday? My family does and every year we just seem to get bigger and bigger! There are regularly 25+ people of all ages at my Dad's house all ready to stuff themselves on the delicious meal.
Since my mom passed, I usually end up playing somewhat of the hostess role because my boys and I come early and stay overnight. We always use the potluck style for our gatherings and split up the cooking. Since I am there though, my Dad and I end up making the stuffing from my mom's old recipe. Every time I see the recipe, it makes me smile. The measurements are literally "handful of salt", "15 shakes of pepper", and "hot water" (no actual measurement!). I always wonder how full the handful should be....open hand? cupped hand? heaping? No one has complained about my guesstimate yet (probably because they don't want to be in charge of bringing the stuffing).
Are you hosting thanksgiving, but not sure where to start with the menu? Here is what we do to give you a guideline to get started - obviously switch out any of your treasured family recipes in place of my ideas! My husband, kids, and I eat more adventurously than the rest of my family, so you won't see anything other than traditional fare here. We save the fancy recipes for at home.
Main Dish - Turkey (obviously)
Gravy (Note, we deep fry the turkeys, so there aren't any drippings to make gravy - plan for that if you intend to fry the turkey)
Potato - Mashed Potatoes, Baked Sweet Potatoes
Salad - Lettuce or other (broccoli salad is one of our standards)
Cooked Vegetable - Green bean casserole
Cranberries - Homemade or my sister insists on the canned kind.
Bread/Butter - Dinner rolls or Hawaiian roles
Fruit - Usually we have a fruit salad or one year my sister made a turkey with the fruit on a tray.
Beverage - We tend to not plan too much for drinks (we like our sugar in the next item) - but you could consider a punch, soda, or a signature alcoholic beverage
Desserts - Pumpkin Pie + 2-3 other desserts (we really like desserts!)
Appetizer - Depends on what time we plan to eat if we have someone bring this or not. Some ideas: vegetable tray, hot dip with crackers, cheese board or cheese/sausage tray, deviled eggs.
Does that seem like a lot? It is! But I always like to err on the side of leftovers instead of not enough. Again, remember that each family brings 2-3 things, so the work is spread out. Add or take away based on how many people you expect - like maybe a small group only needs mashed potatoes and no sweet potatoes.
You can also use this guide for other large gatherings - adjust what you make to the event and the time of the year! Also, you can adjust the size of the dishes based on how many people you have. A couple small salads that feed 4-6 would be great for gathering of 10 people.
But what are the kids going to do while you do all this hostessing work? Try this cute turkey and turkey feather printable kids craft before (and use as decor) or on the day of to keep them busy while waiting for everyone to arrive.
Colored Turkey Body and Feathers to Color
Turkey Body and Feathers to Color
If you want to use paint, I recommend painting on the back and then you can still see the lines to cut the features out on the reverse. In the photo sample, we used a sponge to paint along with bubble wrap and added a few glitter paint spots with paintbrush. Be sure to grab the page of just feathers too! Share you decorated turkeys on Instagram with me - tag @patternedpom.