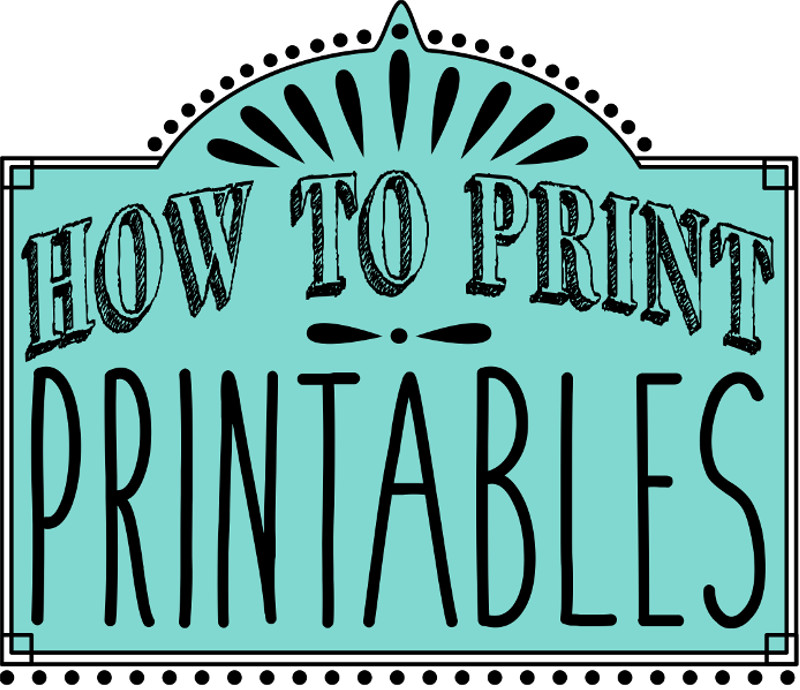 I love the ease and convenience of printables! They are everywhere, but have you ever looked at one and wondered "How do I print that?" or maybe even "How can I use that?" I have experience printing all types of projects different ways, so I thought I would share a little knowledge with you and help get you excited about your new printables! These will especially work with the printable products I sell, but should work with others as well.

Print at Home
This option obviously is easily accessible - especially if you have a nice home printer....and ink. I have a friend that is always out of ink, so that is why I say that! All printables should work with an inkjet printer or laser printer. Most home printers do not print borderless (no unprinted white margin), so I create all my printable art and cards with a 0.20" margin in mind.
Most printers should be able to print from a desktop or laptop in either .jpg or .pdf format without any issues. If you have an inkjet printer, you may experience banding (uneven strips) on large blocks of color. In some cases you may need to "ignore page margins" to allow the printable to fill the sheet and be the right size. It may take trial and error before you get the printing right, I suggest trying one before printing 100.
For printable invitations or art, another consideration is what you are going to print on and if it will work in your printer. A 60 lb sheet of cardstock should feed through most printers, but check your owners manual to be sure. I have a HP inkjet printer and laser printer - both will feed 80 lb cardstock. For more solid invitations, bunting, or other decorations, you may want to layer the printed material on a thicker cardstock base (80-100lb).
If your printable sign is larger than US Letter size paper, you may need to scale this down before printing. A 16"x20" printable scales perfectly to an 8"x10". Center it on the 8.5" x 11" page and trim if necessary. It is not recommended to scale printable art up to a large size. The loss in resolution will not make for a high quality print.
Depending on how you are using your printable, this option could be good for party invitations; printable journals, planners, and calendars; mostly text documents and workbooks; and art prints with lots of white space (not big blocks of color).
Bottom line: Fast, easy, and great for US letter or 8x10 (or smaller) sized prints.

Local Print Shop
If the home printing isn't working, another option is to try a local print shop. In my experience, local printers prefer to have .pdf versions of the printable to work with. The laser printers they use will give you rich, bold, and even colors. Always bring the file on a flash drive or email directly to them for printing.
I use our local Staples and they have an email address for the copy center. I upload the files and then go pick it up. If you are printing invitations, you may need to decide how many will print to a sheet (2 or 4) and consider how they will be cut (by you or by the print shop).
Bottom Line: Great for nicer prints and larger quantities.

Online Printers
There are lots of options when it comes to online printers, so I will go through the ones that I have experience with. If you only have a .pdf version, use a free online converter like PDF2JPG. Choose the JPG quality option "Excellent 300dpi".
Bottom Line: The sky is the limit. Use your printable in so many unique ways!
Ready to get started?
Grab these FREE PRINTABLES and try out these tips! Included in your download is:
16x20 print that says "The best things in life are the people we love, the places we've been, and the memories made along the way."
8x10 print is perfect for laundry room decor and says "Wash, Dry, Fold, Repeat" with a pretty blue vine pattern.
One Printable Birthday Greeting Card
One Printable Thank You Card
Instructions on how to print and cut the greeting cards.
Access to list only content, freebies, and more printables!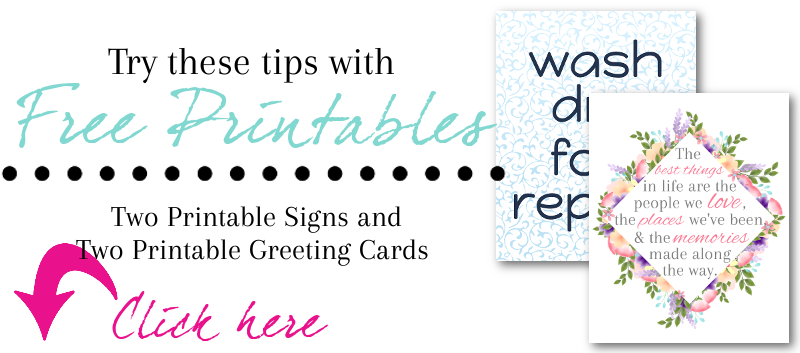 SUBSCRIBE AND GET FREE PRINTABLES
We use Mailchimp as our marketing platform. By clicking to subscribe, you acknowledge that your information will be transferred to Mailchimp for processing. Learn more about Mailchimp's privacy practices here
Common Questions
Can I size the print up or down? It is ok to print smaller, but in most cases printing larger will result in poor printed quality.
Why do the colors look different from my computer screen? All computer monitors are different and will show colors differently than your printed project. Where and how you print can also have an effect on the colors.
Can it print to the edge (borderless)? Most home printers have some sort of white border. Refer to your printers manual to see if you can print borderless. All of my art and cards are made to allow for the margin.
The size is off when I print my full sheet. Why is that? On some printers you may need to "ignore page margins" to allow the document to fill the page as I have created it (especially with cards where you print and cut). With the allowable margins included, it should print correctly and be set up right for cutting.
The local printer can't use the file I provided. I used my cell phone to transfer the document. Always bring your file on a flash drive (AKA thumb drive) or email directly to the local printer. In my experience, there have only been problems when customers try to use their phones for file transfer.
I only have a .pdf, but I need a .jpg file to print online. Use an online converter like PDF2JPG. Choose the "Excellent 300dpi" for JPG quality.
Make sure to pin or bookmark this page so you can reference it next time you have a printable to use! Ready to select your own styles of printable art? SHOP NOW!
This post contains affiliate links, which means I may earn some money if you click on one and make a purchase. I only link to things I know, use, and love.