Are you struggling with what to write in a sympathy card for someone you know what a death in their family? It is so hard, but I can say from experience that the most important thing is to send a card! Let them know that they are not alone. It is a great way to say 'I am thinking of you right now'. It doesn't have to be poetry, just be heartfelt!
After my mom died, I did truly appreciate ever single card I received. I read them, displayed them, and reread their encouraging messages. The most profound was the second card I received near the holidays from someone who had lost both her parents. She new what I needed, because she had been there! So it doesn't matter how long it has been, a condolence card will be welcomed and appreciated.
If you have never experienced a death of someone very close to you, then I understand that it is hard to figure out what to do. Honestly, I never knew that deep of pain until the loss of my mom. So I understand it is absolutely normal to be unsure on what to do! Sometimes, just getting started on a message of sympathy is the hardest part, so here are some ideas and examples to help you get the pen to paper. If you know an encouraging scripture or poem you can surely include those as well, just don't forget to include your words too. As with all of my writing examples, I tend to keep things short and sweet. If you want to write more, go for it! But if all you say are 3 simple sentences, that is OK too!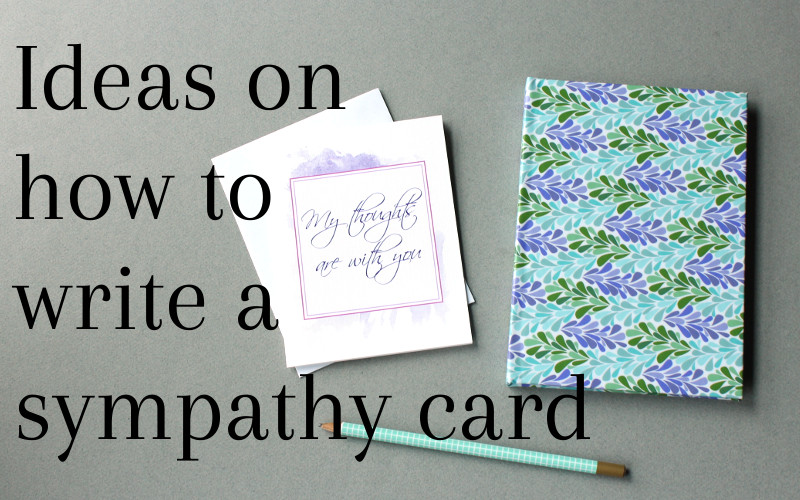 Sympathy Card Example Text
Our deepest condolences on the passing of your mother, (Name if known). We cannot even imagine the pain you are going through right now, but we want you to know that we are praying for you and your family through this difficult time. We hope with time the memories that bring you tears today will eventually bring a smile.
So sorry to hear of the loss of your father. He was always so fun to be around. I remember the time when he took us camping and he stayed up all night with us when we were scared of the forest sounds. Please know that you are in our thoughts and prayers always.
Our deepest condolences on your loss. It is never easy to lose anyone in our life. We hope that you are able to take the time you need to be sad. It is ok to not be ok for as long as you need. Hold each of the precious memories you have in your heart and use them to remember your special time with them.
Sympathy Gift Ideas
Sending a card is an amazingly simple way to show you care, but what if you want to do more? Don't say "Let me know what you need". Often times people don't really even know what they need or remember which person may have offered. Instead provide an exact offer at a specific time that you absolutely willing to follow through with.
I get that flowers are sort of a traditional gift, but I like more useful and tangible ways to show that you care directly to the person. If you send a house plant - make sure CARE INSTRUCTIONS are included (many houseplants didn't make it through to year 3 after my mom died. I have one left, my dad has 2).
Here are a few more ideas that include specific actions to help:
"I would love to make you a meal. Can I bring it by on Tuesday?" (Set up a meal train!)
Bring a basket with fruit and vegetables (especially if you have home grown ones from your garden). People brought so many desserts to my dad (who is diabetic), but what was really missing was perishable fruits and vegetables that he didn't want to go to the store to get.
"Would it help if I picked up your kids from school this week?"
"I am heading to Starbucks coffee, can I bring you your favorite?"
Bring an activity pad or puzzle to funeral or visitation to keep kids occupied.
Bring over paper products (plates, napkins, disposable utensils, toilet paper, paper towels). Not glamorous, but like the fruits and vegetables above, maybe they just can't make themselves go to the store right now.
Give them a set of pre-printed thank you cards that will make sending them easier and faster. Offer to help writing them.
"Would your child like to come over to play on Thursday afternoon?"
"I am going for a walk, would you like to join me?"
If you aren't willing to do it, don't offer. These gestures should be fueled by your desire to help, not just an offhand comment. I believe if you just can't shake the feeling that you should do something, then you probably should! I did truly appreciate every gesture that people did for us when my mom died. I still remember each one and it has been three years. Nothing was too small.
Knowing I was not alone was the best gift ever.