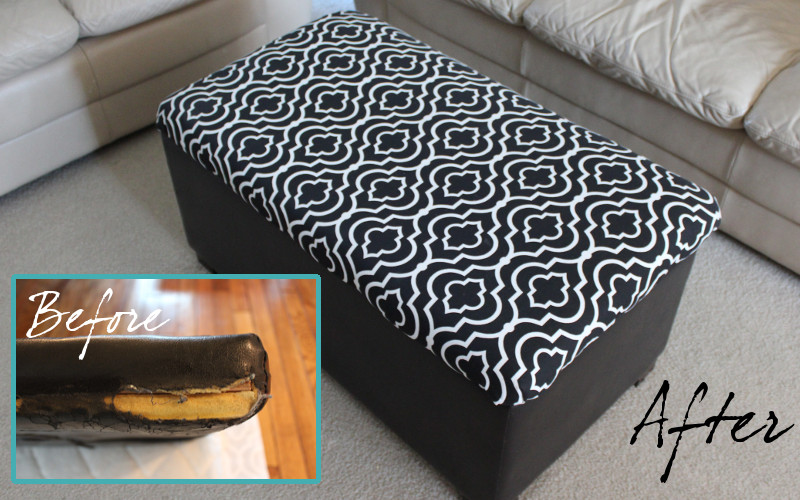 As you do when you have kids, you make safety a priority in your house. For us that meant exchanging a coffee table in the living room for a soft padded storage ottoman....mainly because our boys are like wild animals at times! :)
At first I wasn't wild about it, but now I am IN LOVE with storage ottomans. Blankets and pillows out of sight, but close at hand. Yes, please! Well, after 5 years of daily use our not quite so real "leather" ottoman was showing lots of distress on the most used edges. Now it was becoming a safety hazard again and the boys were trying to grab pieces off of it or out of it. Time for a solution.
The ottoman was in fine condition other than to two corners next to the couch, so I decided to try to recover the top. I figured that was a cheaper place to start than a whole new ottoman. I love bold patterns, so I decided to have a little fun with the footstool instead of trying to match the existing pleather in color and texture. I also felt that fabric may be a little easier to use (especially in the corners) for a novice in the DIY furniture business.
Under the fabric, I used a folded twin sized mattress pad (cutting out triangles where it got too bulky in the corners). I doubled it up in the area where we had the worn out edges before. It was a little puffy to start with, but after about a month of use you can't tell that side has more on it. I just used a staple gun to attach it to the underside of the lid. Easy Peasy and under $20 ($5 for 1 yard of home decor fabric with coupon, $12 twin mattress pad).
I do love how it turned out and now I know that all I need is a yard of fabric to update it again! So if you have a piece of furniture that still has good bones, just give it a little update!
UPDATE: April 2018 and this ottoman recovering is still going strong!
While you are here, check out my Organized Home Freebie filled with an e-book, worksheets, and printables to get a kick start on clearing out clutter and getting organized.
Check out my latest collection while you are here!