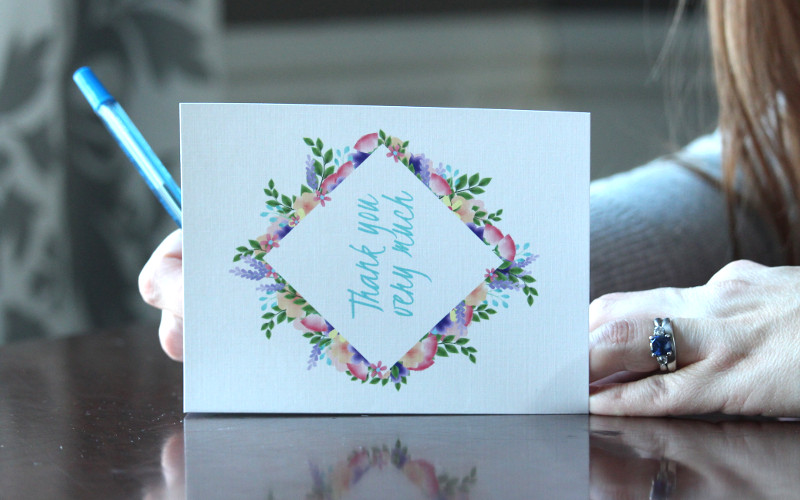 Do you have trouble figuring out what to say in a thank you card? I think writing thank you cards and notes in general becomes harder and harder as people write more texts and emails instead of true letters. Sure, it is easy to say THX or TY in a text, but I believe that isn't quite enough. Maybe it is from the time that I lived in Georgia, or maybe I am old fashioned, but if someone took the time out of their busy schedules to:
Buy a present they thought I would enjoy
Attend a birthday party, graduation party, baby shower, bridal shower, wedding, or funeral
Make a meal for me/my family I think the least I can do is send a simple thank you note in return to acknowledge that I appreciate them and how they chose to honor me with their time.
Getting started writing a message is always the hardest, so below you will find a thank you card format to follow as a guide. I have also included a couple examples to give you ideas on how to use the template. Once you get the idea, writing the thank you cards will become easier!
Simple Thank You Card Format
Greeting (Dear, Hi),
Thank you for Attending Specific Event and/or Specific Gift.
How you will use the gift, did use the gift, or how it was enjoyed (or surprised, or delighted) if you have already used it (like a gift card, meal, or activity).
Any additional items to note about the gift, party, or appreciation like recounting a fun conversation or activity you shared.
Salutation (Love, From, Sincerely)
Example 1 (Birthday Party)
Dear Sophia,

Thank you so much for joining the fun at my roller skating birthday party and the stuffed unicorn pillow. I love how soft and colorful it is and I am already using it on my bed. It looks great with my new unicorn bedspread!

Your friend,

Rebecca
Example 2 (Graduation Party)
Mark, Allyson, Greta, and Gregory,

Thank you so much for attending my graduation and your generous gift of money. I plan on using this money towards my college education in the fall at the University of Illinois. It was great to see all of you again before I head off on my new adventure!

Thanks again,

Alex
Example 3 (Provided a Meal)
Julia,

Thank you so much for bringing over the delicious meal. Everyone enjoyed the tacos and I absolutely must have your guacamole recipe. I appreciate you thinking of our family while John was in the hospital. It made that evening so much smoother not having to worry about dinner.

Love you bunches,

Sarah
You may notice that these are short - really just three lines. You can concisely say thank you without it being long and drawn out! Of course, with any of these you can write more with something funny that happened or special moment that you enjoyed with the person, but this at least will get you started! It is the thought that counts! And being short helps it feel less overwhelming when you have a lot of thank you cards to write.
The thank you cards that I make are just the right size for about 3 sentences too, which makes the short note look like just the perfect amount of writing.
And just so you know - it is NEVER TOO LATE to send a thank you card. Being appreciated has no time limit!
Extras
Need help getting your kids to write thank you cards? Check out my kids thank you card writing template and start teaching them young!