In the middle of winter I am always looking for a fun craft project to do while spending all this time indoors. For this Valentine's Day, I decided to make a template for a DIY printable gift bag that I will give to my boys for Valentine's Day. Making the printable bag template was actually easier that I thought it was going to be. Why didn't I make one before? It will be great for my DIY Valentine's Day treat bag, but now I am thinking of all the other occasions it will work for too!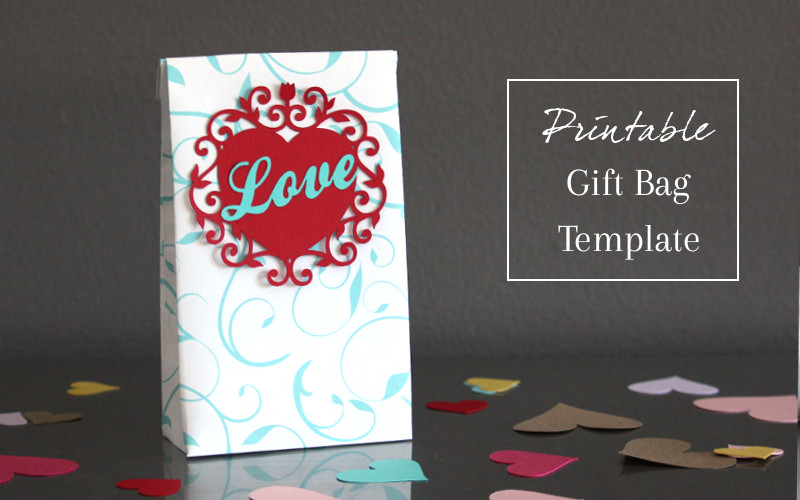 Did you know that Valentine's Day is my favorite holiday? Why? It is all about showing people you love that you care about them! Not necessarily with flashy expensive gifts, but this is the time where even small notes and cards of appreciation don't get lost in the noise (I am looking at you Christmas).
I am going to include in this one sheet of paper DIY treat bag is a handmade valentine, a 'Show Love Coupon' for a Mama and Son activity, and high quality truffle from a local chocolate shop. They are not big bags, so don't plan to fit a stuffed toy in it or anything! They are 3 1/2" wide x 6 3/4" tall (not folded) x 1 1/2" deep. But they do fit on one US letter size sheet of paper, so you can easily print it at home! Keep reading below the tutorial for non-food treat ideas to include!
Printable Gift Bag Tutorial
Materials
Patterned scrapbook paper with white back or free vine pattern printed on plain white paper, size 8.5" x 11"
Downloaded letter sized paper gift bag free template.
Bone Folder (butter knife or pen that doesn't write)
Scissors
Ruler or straight edge for scoring and folding.
Scrapbooking glue (or glue of your choice, just not too thick or heavy, printer paper is thin) My favorite: Zig Glue
Optional: Heart frame medallion cut in red cardstock
Optional: Cut word "Love"
Instructions
Print vine pattern onto one side of plain white printer paper or cut patterned scrapbook paper down to 8.5" x 11".
Print gift bag template on the reverse side from the design. Make sure you know which way to put the paper in your printer to make it print on the correct side.
Cut out along the exterior lines.
Using ruler and bone folder, score the lines that say FOLD. *Hint: after you score, fold the page up against the ruler to get it started. Come back and crease fully.
Glue the straight side flaps inside of the angled larger flaps on the bottom of the bag. Finish with the long flap on the side of the bag. Hint: I used the ruler to press the edge on the along the inside of the bag. Let dry.
Glue word or letter onto heart medallion.
When dry glue or tape onto bag front.
Fill with Valentine's Day card, gift, or treat
Gently fold over the top (you may need to tuck in the sides of the bags gently - think of a how a brown paper bag is on the sides).
Secure the folded top with tape, washi tape, ribbon, staple, or glue.
Ideas for filling with non-food items
Stickers, backpack keychain, small sized figures (like Shopkins or Pok-e-mon), baseball cards, temporary tattoos, nail polish, lip gloss, necklace, earrings, hair ties, show love coupons (free printable to my subscribers - sign up for exclusive content every month!) and of course, a handmade valentine.
Note: If you purchase patterned scrapbook paper for this project, make sure the back is white - the template is printed in a light gray and may not show up with any other pattern or color. Make sure it is not too thick to fold easily and will feed through your printer too! Think of how thick printer paper is. Highly textured or glittered paper are not recommended - save those for the embellishment or tag!
If you make your own bag, share a photo with me on how it turned out and what you included! Tag @patternedpom
All designs are for personal use only
Like the vine pattern? Find more of my original graphic designs on Shutterstock. I receive a portion of each purchase made of my designs - thank you for supporting my love of creating beautiful graphics! I used the vine pattern for this because I felt it could be used for more than one kind of occasion, not just Valentine's Day.