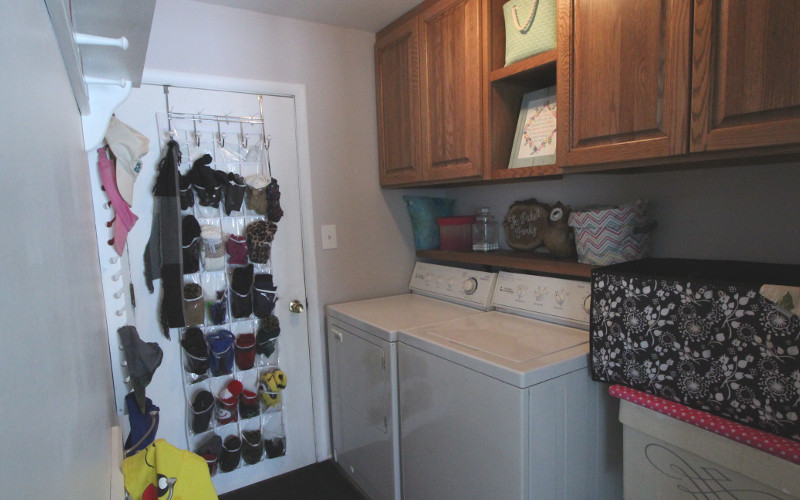 Multi-use spaces are so hard to organize, but it is necessary to make them work! Our small laundry room is also the garage entry (mudroom) to the house, which is likely a common problem in older homes. So we had to organize every inch of space to make sure we used it all wisely. And as you can see it is so small, I can't even get a front photo of the whole thing (even with my wide angle camera lense!).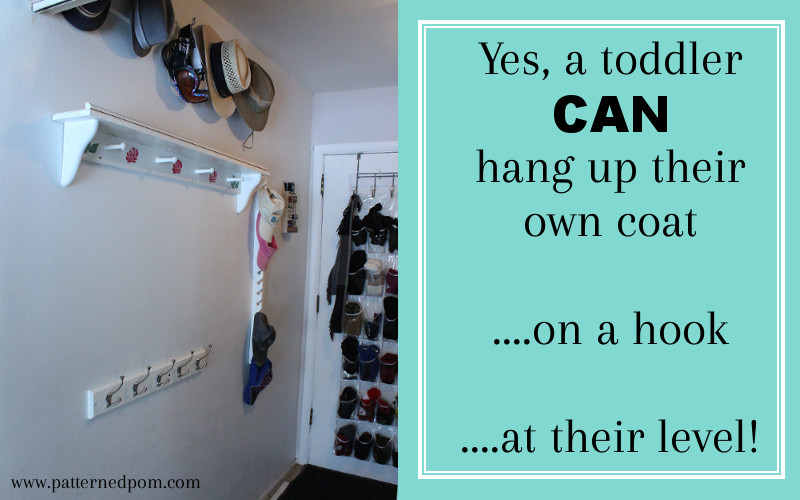 The ideas we started with for our small mudroom laundry room were kid oriented because we liked to teach them to be self sufficient at a young age. Yes, a toddler can hang up their coat....on a hook....at their level! We added a coat rack below the coat rack that came with the house at "adult level". This also allowed space to hang backpacks and lunchboxes during the school year.
Later we also used every inch of this wall by adding another level of hooks above the original coat hooks for hats and a few other seldom used items. Yes, that is right, we have 3 sets of hooks on one wall! The shelf that is associated with the original set of hooks is a place for car keys, sunblock, and bug spray (out of reach for little hands, but easily accessible).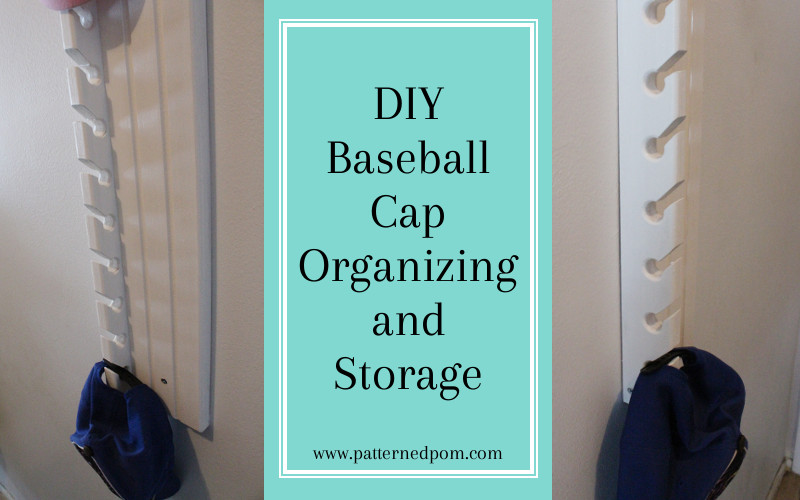 Next to all the coat hooks, I had my dad make a custom baseball hat organizer. My hat holder is 36" tall and the diameter of the cut out circles are 3/4". It holds up to 17 baseball hats. It looks complex, but it is just drilled holes that are then cut to connect to the edge at an angle. The backs of the hat just slide in the slot and stay put even with the activity of entering and exiting by them all the time. The board filled with holes is attached to another board at a right angle. This fluted board is where we attach the hat rack to the wall. The fluting (grooves) are just decorative. No one really ever sees it but me (well I guess and now you)! Next to that, behind the swing of the door, is a battery holder....because way too many toys require batteries!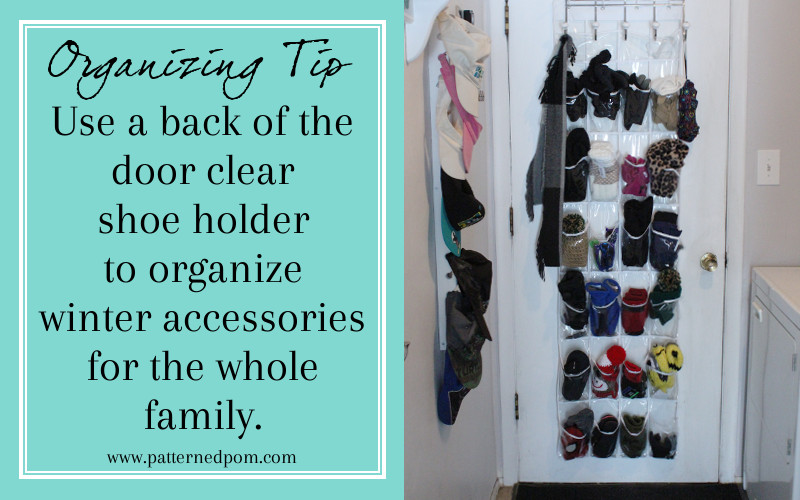 On the back of the door to the garage, we have a clear pocket shoe organizer that holds the whole families accessories (not shoes). In winter, it is a great place for hats, gloves, mittens, and scarves. In summer, it holds summer hats, gardening gloves, umbrellas, small pool diving toys, maybe the occasional flip flops or sandals. We have ours on the shelf, but it could also hold sunblock and bug spray too. I love the transparent version of these shoe organizers more than the opaque ones. We have a couple and they never get used because you can't see what is in them. The hooks that came with the shoe organizer didn't fit over our door to the garage so it is zip tied to an over the door hook that does. It allows the door to close and adds even more storage options.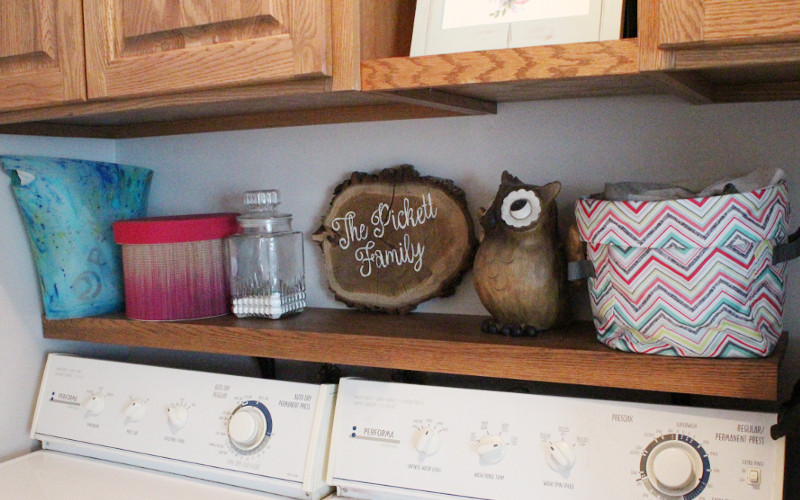 Now onto the laundry room organization. This wall consists of the dryer, washer, wash sink, and custom cabinets. The washer and dryer have a removable shelf above them to keep useful laundry items easily at hand (and things don't fall down behind). The shelf holds a wastebasket for dryer lint, laundry soap in a pretty glass jar with a lid, a cute basket with lid, a wood sign, a cute owl just because, and a fabric basket that holds old rags for cleaning. This shelf is removable so we can easily access the connections if we need to.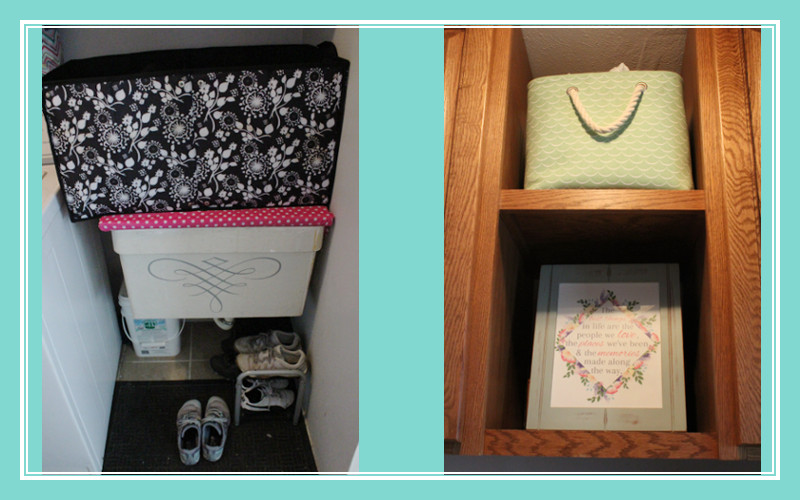 If I had my way the wash sink would go, but for right now it is still there. We only use it occasionally (like when painting or drywalling), so most of the time it is covered like shown. On the wash sink, I have a piece of plywood covered in a fun pink polka dot fabric. This is holding up a fabric laundry bin with two compartments (lights and darks). Under the dressed up sink (see the cute vinyl decal!), is a small shoe rack that just fits between the wall and the sink drain trap and usually a pile of shoes. Let's be real - I am just happy if they get in this area and are not in the middle of the floor. I am the only member of the household that will put shoes onto the rack.
On the center shelves between the cabinets (photo above), I have a fabric basket that holds plastic grocery bags for reuse and recycling. The handle on the basket makes it easy for me to reach and pull down when I need it. Below that is a pretty sign I made and storage space behind. These shelves made it easier to install (since my dad brought the cabinets from his shop, we only had to cut the shelves to fit the space perfectly) and the light for the room also lines up with these shelves (otherwise the doors wouldn't open!).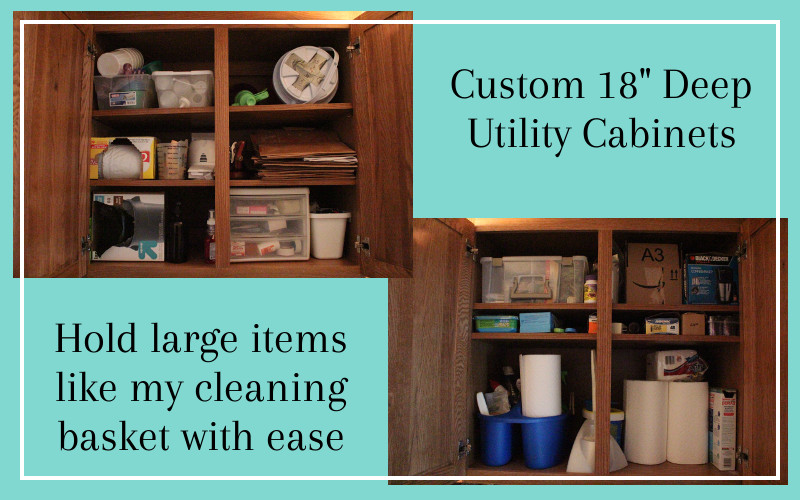 And last, but certainly not least, I have custom cabinets spanning the entire width of this wall to the ceiling. These are deeper than normal upper cabinets (18") because the washer and dryer are so deep that I figured we might as well use that space up top too. My dad also made these cabinets - I am quite lucky to have him! These cabinets serve as utility cabinets and hold a variety of items for the house. So in goes trash bags, outdoor toys, seldom used kitchen items, medicine drawers, paper bag storage, large canteen, paper towels, napkins, cleaning supplies, hair cutting supplies, flyswatter, gardening seeds, flashlight, and more! I love that my large cleaning basket fits in the cabinet so I can easily access it when it is time to clean, but out of the way when not in use.
So this is how we organize our mudroom laundry room and its tight multi functional space. From the top to the bottom, every inch is used to it's fullest potential. I love that the fun colored fabric baskets are useful parts of the laundry room decor. I hope that you can take these ideas and use them in your small laundry room or entryway too!
Check out my Organized Home Guide while you are here for a FREE e-book and printables + awesome list only content, freebies, and printables)! Or grab the FREE PRINTABLE WALL ART for your home!